May 11, 2017
Posted by:

admin

Category:

Software Update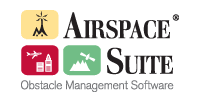 We have completed an enhancement to our Airspace® Software. This release includes a new method to organize all of your Airspace® Point Studies (APS). Airspace will also continue to operate as it did previously. To begin using the new capability, simply begin as you would by opening the Analysis Module. Once loaded, the Analysis Toolbar Buttons will work exactly as they have in previous releases. However, the File Menu tab contains a new item called "Open DB". The "Open DB" menu item will open a new interface to allow access to the new data file called "AirspaceCaseFile". This searchable file will contain all the Airspace Point Study information and results.
Select "Open DB" to launch the database interface module. Once this module loads, the File Menu will change. The new File Menu will allow the user to load all pre-existing Airspace Point Studies. Select "Load Existing CAS Files" from the new File Menu. The load process will occur from the Users specified directory. For example, the default for a Single User version of Airspace is "C:\Airspace\Study". For a multi-user version the APS record source directory is set using the Setup Menu. The default for a multi-user is "C:\Airspace\User1" All the information for APS case files may be loaded as a single "cvs" text file. However, you must follow the specific file format. Information on the file format can be found in the same menu. Once this action is complete, the user no longer has to use this method to load APS case file data. Select Exit to close the database interface file. Once this action has been taken, open the database the same as before and use the search buttons to locate any case in the data set. To select an APS case file to study, simply, select the "open" button and run the analysis as you would have done previously. When the analysis is complete, it automatically saves the results either with new information or added as a new APS case file. The program will still save the case file as an individual file and as a record in AirspaceCaseFile Record Set.
If you have any questions or concerns, please give our office a call at (321) 777-1266, or send us an email, airspace@airspaceusa.com, we would be happy to assist you.